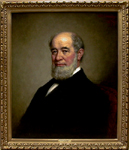 "William Floyd Reynolds", 1811-1880
Artist: George Peter Alexander Healy
Signed G.P.A. Healy, 1879
Portrait Size: 30" x 25"
O.D. of Frame: 38 1/2" x 33 1/2"
Oil on stretched canvas

History:

G.P.A. Healy was also the principal painter of Abraham Lincoln and one of the most important portrait painters of the 19th century.

William F. Reynolds was a Merchant, Financier and Railroad President & Pioneer.

"The cold steel gray eye of that old railroad president looking into mine seemed to send some of that determined confidence in myself into my spirit" –Ulysses S. Grant
Ulysses had been to a meeting with General Joseph Reynolds who had been asked by the Governor of Illinois to recruit Ulysses S. Grant to lead the 21st Illinois Infantry. While procrastinating and questioning his ability to lead a thousand men, General Joseph Reynolds called his brother William to join the conversation. It was the demeanor of William F. Reynolds that assisted in convincing Ulysses S. Grant to return to military service from retirement. This was his initiation into the Civil War.
SC: "Past and Present of Tippecanoe County, Indiana", Pub by B.F. Bowen, 1909; "America's Successful Men of Affairs" Pub by New York Tribune, 1895-96.